Kajoom.Ca unveils its new online documentation database for its customers and users.
When it comes time to do a simple operation on your website, you usually do not want to spend the whole day … And staying stuck at a simple stage can become frustrating. That's why we have gathered in one place all the most frequently asked questions (and even more!) By our customers and users regarding our services and the use of these.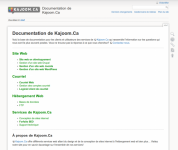 Address of the documentation base:
wiki.kajoom.ca
We opted for a "Wiki" because this mode of organization is ideally suited to creating and maintaining an inter-related and constantly evolving knowledge base. Do not worry, you'll find yourself soon enough! Here are the main sections developed so far in the database that will be constantly improved as and when questions asked by our users.
---
Main sections of the documentation base
---
Can not find the answer to what you are looking for in the documentation database? Do not hesitate to contact us, it will be our pleasure to assist you.
https://www.kajoom.ca/wp-content/uploads/2014/11/wiki-kajoom-2018-12-14.png
1080
1445
Kajoom.Ca
https://www.kajoom.ca/wp-content/uploads/2016/02/logo-black.png
Kajoom.Ca
2014-11-25 19:09:55
2018-12-14 19:53:27
Visit our new documentation database!