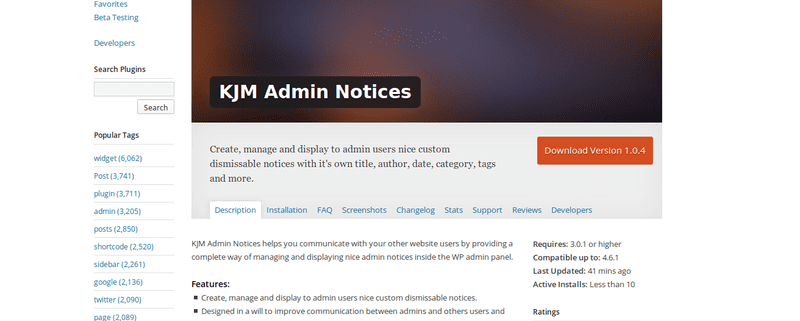 It is my pleasure to introduce you to our new baby, a WordPress plugin freshly released from the Kajoom.Ca web development workshop, I named: KJM Admin Notices!
It is simply a plugin to help administrators of WordPress sites to communicate with other members of the site through pretty notifications in the "admin" of a WordPress site and also optionally by sending these notices by email.
To download the plugin
Screenshots
Some features
Create, manage and display to admin users nice custom dismissable notices.
Designed in a will to improve communication between admins and others users and roles.
Each notice can be styled based on the 4 built-in WordPress notices : info (blue), success (green), warning (yellow), error (red).
Choose to which roles you want to display / send notice.
Notices are dismissable by the user, on a per user basis.
Assign tags, category, author, publish date to your notice.
Shortcodes : 3 handy shortocdes available as placeholders into the title or the body message : [ kjm_website_domain ], [ kjm_display_name ] and [ kjm_admin_login ].
Email notifications : Send notices by email to your users. Send copy to the admin.
You can even enable WordPress comments on your notices to turn this into a collaborative system!
Designed in a will to improve website management and updates by providing a kind of website maintenance log.
Save general system along with notice : WordPress version, active plugins and versions, theme and version, child-theme and version.
A note on the concept of free software …
Of course, it's part of our daily job to develop or adapt plugins and WordPress themes for our customers. To propose the result of our own work on WP.org is for us a different approach. It is about embracing the open source philosophy and actively contributing to it in a spirit of generosity (and humility) that is the strength of this view of technological development and knowledge. A real machine to collaborate with people from all over the world. So WordPress, here we are!
Feel free to test the plugin on your WordPress site if you are interested, and give us your feedback and your comments on WordPress.org:
KJM Admin Notices
https://wordpress.org/plugins/kjm-admin-notices/
https://www.kajoom.ca/wp-content/uploads/2016/10/l_kjm-admin-notices-wp-org.png
640
800
Kajoom.Ca
https://www.kajoom.ca/wp-content/uploads/2016/02/logo-black.png
Kajoom.Ca
2016-10-16 20:47:58
2018-12-18 21:23:06
KJM Admin Notices, a new plugin on WordPress.org